Greenroom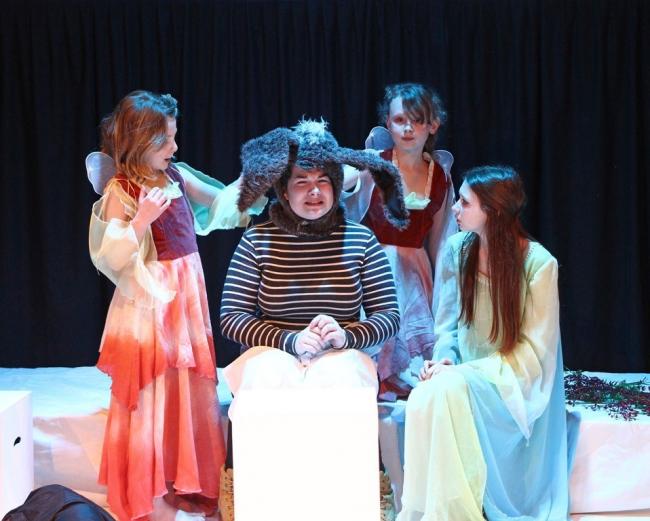 Greenroom
We have been holding Saturday morning classes for children aged 8-18 for over 40 years, in some cases attracting successive generations of the same family - and love to welcome fresh talent.
Tutors Andrew Leggott and Nikki Mason are long time Playhouse members and experienced stage performers. They lead the children in games and warm-up exercises, followed by the preparation of drama scenes, usually improvised but occasionally text based. Other skills such as stage fighting, mask work and clowning are also covered.
Junior Class
The Junior Class runs from 9.30 – 10.30am for children aged 8-11. This age group are blessed with very few inhibitions and throw themselves (sometimes quite literally) into all the exercises. In 2016 we presented an adaptation of "Alice in Wonderland" in December to sellout audiences, and next year we are planning to perform "Peter Pan".
Senior Class
The Senior Class runs from 10.45-11.45am. These 12-18 year olds may still experience some nerves, along with the inevitable struggles of simply "being a teenager" and the weekly fellowship that the Green Room offers – new friends, learning and working together and plenty of laughter – is a refreshing oasis in the midst of school and exams. In 2016 the Seniors featured in an adult/youth production of "The Lion, The Witch and the Wardrobe" on our main Wharfeside stage just before Christmas, and "Gregory's Girl" is planned for 2017.
Many of our Junior and Senior Class students have gone on to become successful professional actors, one recently enjoying a major role in the West End (Danny Horn playing Ray Davies in "Sunny Afternoon"). However, you don't have to become a star to benefit. Our Greenroom classes are invaluable in building confidence and self-esteem. Plus – they are great fun!
Greenroom classes take place every Saturday morning during term time.
Unfortunately, as the fees did not rise last year, we have been advised to put them up for the new season.
Junior and Senior Greenroom fees will be £45 per term, payable in advance. Additional siblings in the same family qualify for a reduction to £40 per term.
Cheques should be made payable to Ilkley Players Ltd.
Registration for 2017/18 is on Tuesday 5th September, from 6 to 7 pm. The first classes are on Saturday 9th September 2017:
Junior (Age 8 -11) 9-30 to 10-30 am
Senior (Age 12+)10-45 to 11-45 am
NB The Senior Class was oversubscribed last year. We plan to have a cut-off of 35 members at September registration.
To ensure your place, send your cheque NOW, or during the summer to: Ilkley Players Ltd, Greenroom Subscription, Weston Road, Ilkley LS29 8DW
Contact: Andrew Leggott, the Class Tutor by email a.leggott1@btinternet.com or by telephone if you wish to discuss the sessions 01943 602014