Singin' in the Rain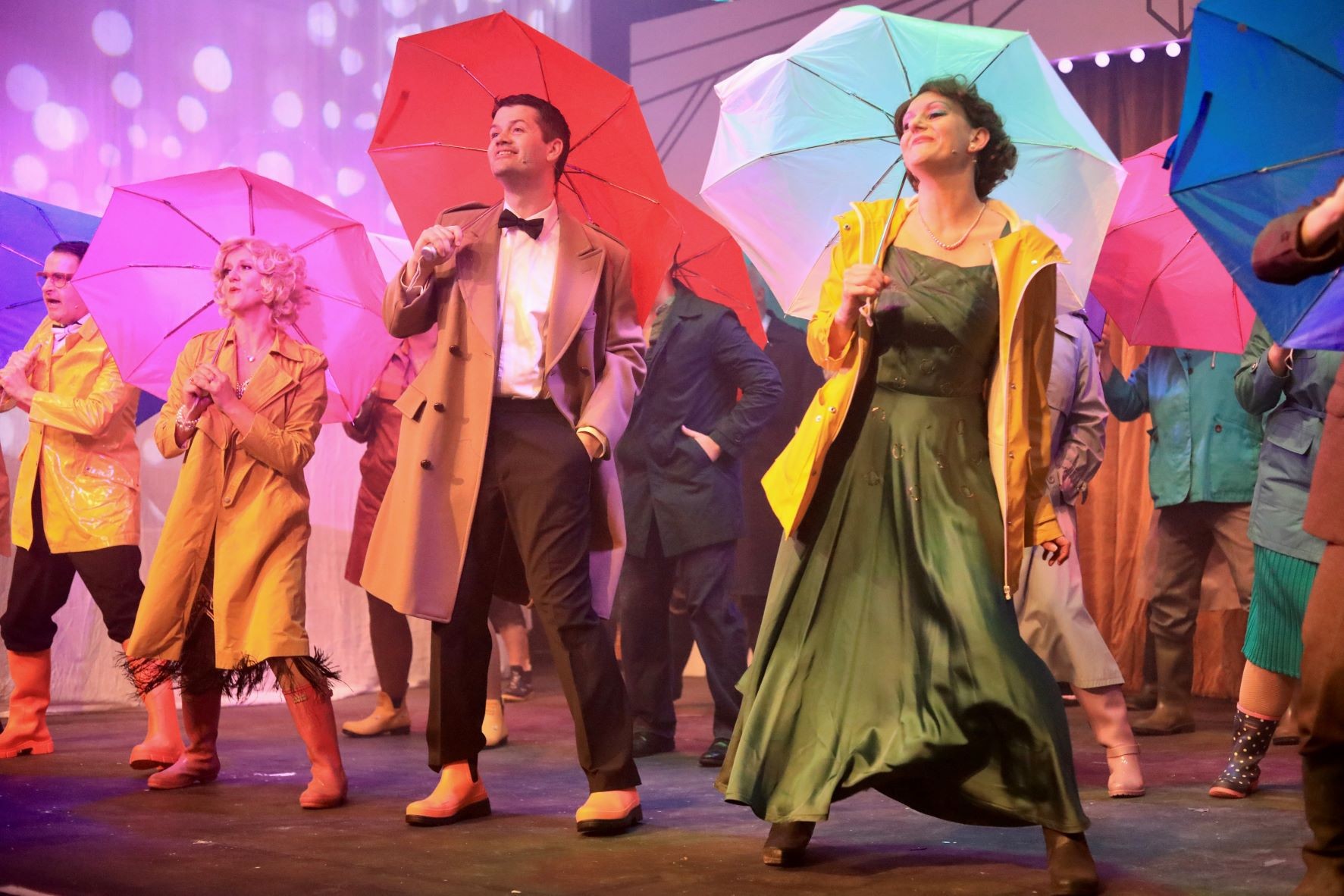 Singin' in the Rain
Screenplay by BETTY COMDEN and ADOLPH GREEN
Songs by NACIO HERB BROWN and ARTHUR FREED
Based on the classic Metro-Goldwyn-Mayer film, by special arrangement with Warner Bros. Theatre Ventures, Inc.
Music published by EMI, all rights administered by Sony/ATV Music Publishing LLC
(Original Movie Choreography by Gene Kelly and Stanley Donen)
Produced by Arrangement with Maurice Rosenfield, Lois F. Rosenfield and Cindy Pritzker,Inc.
This amateur production is presented by arrangement with Music Theatre International (Europe)
All authorised performance materials are also supplied by MTI Europe www.mtishows.co.uk
Singin' in the Rain is the perfect, potent pick-me-up in these apparently interminable grey days of anxiety and gloom. It will lift your spirits and send you dancing round Ilkley with an inane grin of pleasure on your face. The show's success is all the more startling because, although the famous 1952 MGM movie is perhaps the greatest and most beloved of all big screen musicals, this stage version takes off in startling and delightful new directions of its own through broad buoyant humour and a delightfully tuneful score.
Singin' in the Rain is set in 1927 and the dawn of talkies. The newly established film industry is about to undergo a revolution with the advent of Al Jolson's Jazz Singer. But Monumental Pictures, headed by RF Simpson has a problem. Their leading lady, Lina, sounds godawful. Her on-screen partner, the dashing Don Lockwood passes muster but what can they do about Lina? The answer, of course, is to dub her and Don knows just the person – the real love of his life, Kathy Selden. With fabulous costumes, brilliant musical numbers and fizzing choreography, this is a feel-good production for the whole family that will keep you humming those famous tunes long after you've left the theatre.
Directed by: David Kirk
Technical Director: Andrew Lunn
Musical Director: Cathy Sweet
Choreographer: Ted Oxley-Kirk
Wharfeside Theatre