Co-Artistic Directors

Yvette Huddleston
Yvette Huddleston has had a long association with Ilkley Playhouse as an actor and director and has also served as publicity director and as a member of the reading, play selection and Fringe committees and has directed iP productions at the Minack Theatre in Cornwall as assistant director, co-director and solo director four times – including the award-winning 2009 production of The Crucible, Rosencrantz and Guildenstern Are Dead, Wuthering Heights and most recently the 2019 production of Blue Stockings.
A freelance arts journalist specialising in the arts, she has contributed to a range of national and regional publications, writing extensively on film, theatre, literature and visual art. She is arts correspondent for the Yorkshire Post and chairs events and debates for a number of literature and arts festivals around the North. She is a founder member of Leeds Pub Theatre, a collective of West Yorkshire-based professional actors, writers and directors, for whom she has written, performed and directed several short plays. With her own theatre company Poppyseed Yvette has put on a number of touring productions in studio venues and non-traditional theatre spaces and has also directed in a professional capacity in the West Yorkshire area.
Yvette is delighted to be co-artistic director of Ilkley Playhouse with Damien. Sharing the role between them – her areas of responsibility are director support and development, Fringe, reading and play selection and publicity.
Damien O'Keeffe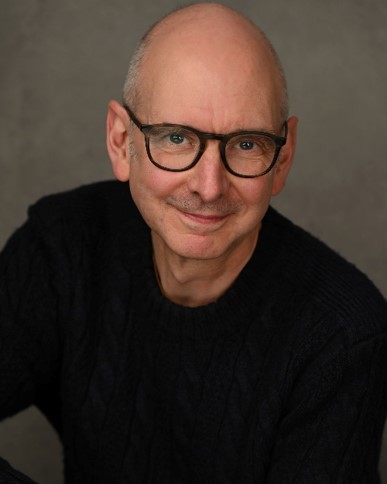 Damien made his stage debut as Doctor Who (the Tom Baker version) in a school assembly in 1978 and never looked back. He went on to become a member of The West Riding Youth Theatre as a teenager before studying performing arts at Middlesex University. Damien's first professional job was with a Theatre-in-Education company based in Sheffield. He then worked as a youth theatre leader at The Crucible Theatre, Sheffield and The Haymarket Theatre, Leicester. Damien worked as a freelance actor, director and workshop leader for several years before finding a second career in teaching.
Damien spent 19 years teaching in the performing arts department at Bradford College, finishing his time there as Head of Faculty. In 2005 he co-founded Paper Zoo Theatre Company with several colleagues and graduates, directing and performing with them until 2018. Paper Zoo performed at The Edinburgh Fringe Festival in 2008 and 2010.
Damien made his Ilkley Playhouse debut in 2014 playing Will Hays in Shakespeare in Hollywood. He has appeared in roles such as The Headmaster in The History Boys, George Kitteridge in High Society, Rudyard Kipling in My Boy Jack, John in My Night With Reg, one of the gangsters in Kiss Me, Kate, Norman in On Golden Pond, Professor Banks in Blue Stockings, and most recently as Edward Kynaston in Nell Gwynn. He also directed The Vortex, The Lion, The Witch, and the Wardrobe, The Misanthrope, and The Wind in the Willows.
Since 2018, Damien has been Head of Acting at SLP College in Leeds, and is delighted to be Co-Artistic Director of Ilkley Playhouse with Yvette. His areas of responsibility are actor development, casting, technical support, external partnerships and the Greenroom.