Acting & Directing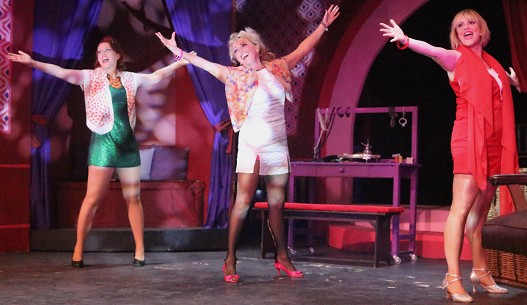 Each season, we put on a full and varied programme ranging from contemporary drama to Shakespeare, via comedy and the controversial. Our productions take place on one of two professional standard stages: the Wharfeside Theatre and the Wildman Studio. We also produce Fringe work, which is more cutting edge. Sometimes our productions also tour local and distant venues.
We take great pride in the standard of what we offer, and this is reflected in the level of commitment expected from our Directors and Actors.
Rehearsals take place on weekday evenings and Sunday afternoons for a minimum of six weeks prior to the opening night. The runs vary from three nights to a full two weeks, ensuring there is the right level of time commitment for everyone.
Acting
We are always looking out for new talent. Plays are cast from a pool of actors ranging from our Junior members and Greenroom to some of our more experienced actors who may be over 80. They come from a wide range of backgrounds and have a variety of levels of experience. If you already have some experience or training in acting and would like to join our company, we would love to hear from you.
In the first instance, please contact the Playhouse Office on 01943 609539. When you take up membership, we will arrange for you to have an informal casting to discuss your acting interests. You can sign up on the lists on the casting notice board to register interest in a particular play.
We also invite new actors to develop their skills through smaller parts, usually alongside a backstage role or in a Fringe role. Working as part of the team, this provides a sound basis for quick learning. On occasion, master classes are also offered.
Directing
We are always interested to hear from experienced directors or those with theatre experience who wish to learn directing skills. If this is something that you are interested in, please contact our Co-Artistic Director (Yvette Huddleston), outlining your experience, via info@ilkleyplayhouse.co.uk.
Fringe Productions
The Ilkley Playhouse Fringe exists to give our audience and members a wider range of theatrical experiences. Fringe productions are intended to showcase new writing or to provide additional challenge for our actors. They may include the sort of themes and language which may not be usual in main house productions, and they allow our directors to try out new techniques. Sometimes they are used to provide an opportunity for less experienced actors or directors.
If you are interested in any of the above areas, please contact the Ilkley Playhouse Office at info@ilkleyplayhouse.co.uk or call 01943 609539.