Nell Gwynn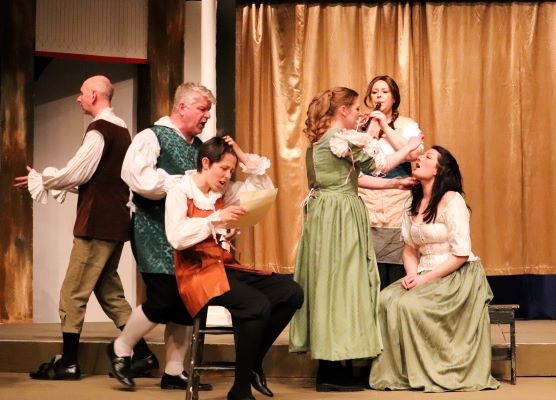 Nell Gwynn
by Jessica Swale
This amateur production is presented by arrangement with NICK HERN BOOKS
An exhilarating play with music; raunchy, saucy, vulgar, and vibrant. It's Ilkley on a Saturday night! Or the bawdy streets and royal intrigues of London, 1660.
King Charles II has exploded onto the scene after the austerity of Cromwell's regime. With the King's love of all things loud, extravagant, and sexy, the stage is set for a confrontation between king and commoner which becomes the stuff of legend.
Nell Gwynn charts the rise of an unlikely feminist heroine from her roots in Coal Yard Alley to her success as Britain's most celebrated actress, and her hard-won place in the heart of the King. But at a time when women are second-class citizens, can her charm and spirit protect her from the dangers of the Court?
However, Nell is no ordinary 'tart'. She is a feisty feminist actor(ess) with warm wit and energy. She brought women to the stage, changed the face of theatre almost singlehandedly. This is a play for everyone who loves the theatre.
Ilkley Playhouse had the pleasure of performing Jessica Swale's debut play, Blue Stockings, in 2019. It also transferred to the Minack Theatre, Cornwall for a sell-out run. Now we are thrilled to be presenting her vibrant take on the heady world of Restoration theatre which premiered at Shakespeare's Globe, London, in September 2015, starring Gemma Arterton. Welcome to Nell Gwynn - there will be blood…. oranges!
"They've disgraced our trade. Ruined our art. They've put a woman on the stage..."
Directed by Robin Martin

Wharfeside Theatre