The Cracked Pot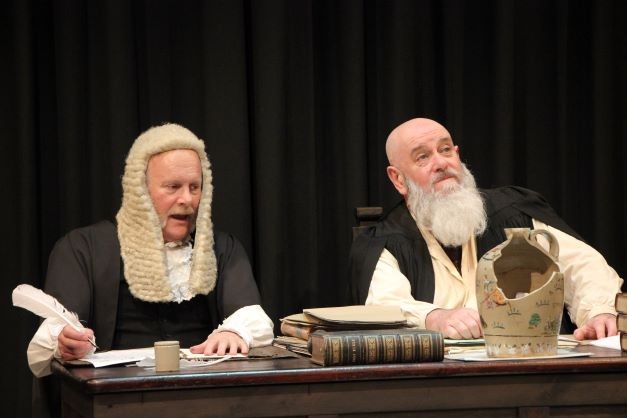 The Cracked Pot
by Blake Morrison
Translated and adapted from Heinrich von Kleist's Der Zerbrochene Krug.
This amateur production of "The Cracked Pot" is presented by arrangement with Concord Theatricals Ltd on behalf of Samuel French Ltd. www.concordtheatricals.co.uk
A rumbustious romp, a laugh out loud production.
It is 1810, the Leeds Liverpool Canal is not yet finished and Judge Adam, Skipton's devious sole agent of justice is far from happy to be visited by the investigating magistrate from foreign parts Manchester!
Meanwhile, he oversees the case of the Cracked Pot. Who damaged the beloved heirloom owned by Martha, a garrulous woman who is determined to see justice done?
A wonderful anarchic comedy ensues as Adam seeks to evade, confuse, and terminate proceedings.
The accused young farmer, Martha's daughter's fiancé, and his dad exude inarticulate rage. Martha's "innocent" daughter Eve is in a fury, whilst the underpaid and better legally qualified clerk of the court, Bright, takes every opportunity to quietly reproach Adam and remind him of the law of the land.
And what will the wily Aunt Bridget bring to the proceedings?
All this adds up to an evening of hilarious, unforgettable comedy. Adapted from the original German, the action now takes place in Blake Morrison's hometown of Skipton, with verse transformed into tough Yorkshire dialect. So don't mess abaht, get thissen down t'Playhouse for a reet good laugh.
Warning: there is a bit of ripe language and some folk might find the play offensive especially from t'other side of Pennines or t' South.
Directed by Len Taylor and Colin Waterman
Wildman Studio