Costume & Props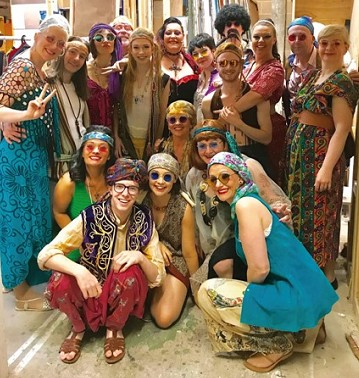 Costume Hire
Ilkley Playhouse, Weston Road, Ilkley, LS29 8DW
You can email us at ilkleycostumes@hotmail.com or info@ilkleyplayhouse.co.uk
www.instagram.com/ilkleycostumes
www.facebook.com/ilkleycostumes
Our costumes cover all periods. Most of our costumes are from our Playhouse theatre productions, so we have a range of Georgian, Victorian and Edwardian costumes up to present day including military. We also have a range of accessories to complete your outfit. We do not hire specific 'fancy dress' costumes.
ILKLEY PLAYHOUSE COSTUME HIRE TERMS AND CONDITIONS
Length of hire period
Prices quoted are for the length of hire agreed by Ilkley Playhouse with the hirer. We will agree a return date with you on collection.
Payment
Costumes must be paid for in full at the time of selection. Payment can be by cash or credit card/debit card.
Payment on account
Please contact the Costume Hire department for details. Account customers are invoiced directly by the Playhouse's office.
Return of costumes
A further charge could be made if the costume is not returned on the date stated on the Hire Agreement form. Returns can be made during opening hours or to the Playhouse office, weekdays 10am to 3pm. Please remember costumes may be due to go out to another hirer.
Insurance of costumes and loss or damage of a costume
Hirers are responsible for any loss or damage to costumes for the total period of the hire. Once the costumes leave our premises, they become the responsibility of the hirer until they are returned to our premises. Please let us know if costumes are damaged when they are returned to us, so that we can repair them before they are replaced into our stock. If a cost is incurred or replacement required, then this amount will be charged to you.
Costume alterations
If any change is needed customers should not alter hems, take costumes in, let seams out, etc without consulting us. All alterations not rectified will be treated as damage and charged for accordingly.
It is accepted that these listed conditions have been, read, understood and agreed to. Signature of such will be deemed as acceptance of these conditions.
Props
Perhaps you need a basket of herrings, an old gramophone with a horn, a fluffy cockerel, a galvanised hip bath, a half-eaten chicken or a vintage mowing machine for a play you are producing - get in touch with our Props department by contacting the office at info@ilkleyplayhouse.co.uk