Working Backstage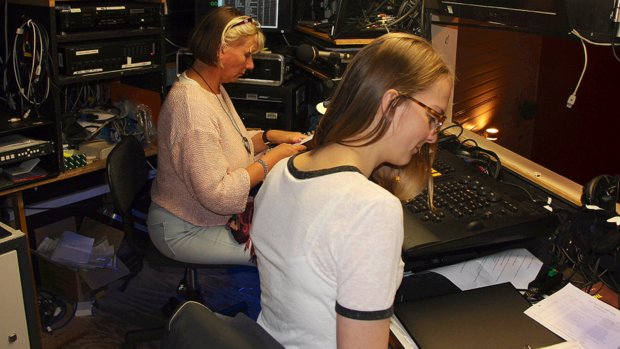 Working Backstage
There are a variety of different backstage roles that are available on each of our productions:
Stage Management and Props
The Stage Manager is the overall project manager for a production, liaising closely with the Director and managing the stage crew and the production budget.
The Deputy Stage Manager usually writes up the book with technical cues during rehearsals, and then calls the cues during a performance.
Assistant Stage Managers/Props help to prepare the production source props. During performances they form the stage crew, moving scenery and working backstage.
Scenic Design, Construction and Painting
The Set Designer designs the solid scenery and recommends or finds furniture for a production, working closely with the Director, the Stage Manager and the Set Constructors (the Set Working Party). They produce detailed plans and models for the Set Constructors to work from.
Set Construction and Painting
Set construction and painting normally takes place during the day and on a Wednseday evening. We always welcome extra pairs of hands - particularly those with an aptitude for DIY and similar skills!
Lighting and Sound
The Lighting Designer liaises with the Director and Set Designer, and creates the lighting effects for a production. A high level of creative and technical skill is required for this.
The Lighting Operator works closely with the Lighting Designer to program lighting cues into the lighting desk and then operates the desk during performances (and dress rehearsals).
The Sound Designer works closely with the Director and designs and records the effects and music cues. The Sound Operator works with the Sound Designer to plot the Sound Cues and then operates the playback machines and sound mixing desk during dress rehearsals and performances.
Costume Design and Wardrobe
The wardrobe staff are responsible for making or sourcing and adjusting costumes and accessories. On a historical show this can involve quite a large number of period costumes - but even on a more modern production in everyday dress, the Wardrobe department need to obtain the right clothes and adjust them to fit the actors. They are then responsible for maintaining the costumes during the run of the production - including washing and ironing. General sewing skills are necessary to work in this area.
If you are interested in any of the above areas of backstage work, please contact the Ilkley Playhouse Office at info@ilkleyplayhouse.co.uk or call 01943 609539.