Christmas Coffee Morning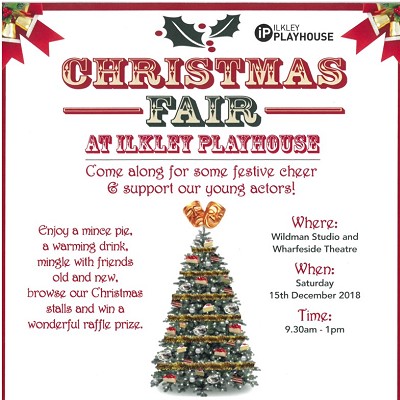 Christmas Coffee Morning
Christmas Fair at Ilkley Playhouse
Come along for some festive cheer and support our young actors.
Saturday 15th December 2018
In the Wildman Studio and the Wharfeside Theatre
9.30am to 1pm
10am Junior Greenroom Performance
Half an hour of devised and rehearsed sketches on a seasonal theme from our Junior Greenroom Members, aged 8 to 11.
11.15am Senior Greenroom Performance
As above but from the minds and talents of our Senior Greenroom Members, aged 12 to 18.
12.30pm Adult Greenroom Players
Performing a dramatic extract.
Each performance lasts approximately 30 minutes.
Enjoy a mince pie, a warming drink and mingle with friends old and new, browse our Christmas stalls and win a wonderful raffle prize!
If you would like to bring a stall, help serve refreshments, sell raffle tickets or assist on our bookstall, please contact the office on 01943 609539 or email info@ilkleyplayhouse.co.uk
Share This Page