'Chaos' at York Theatre Royal Studio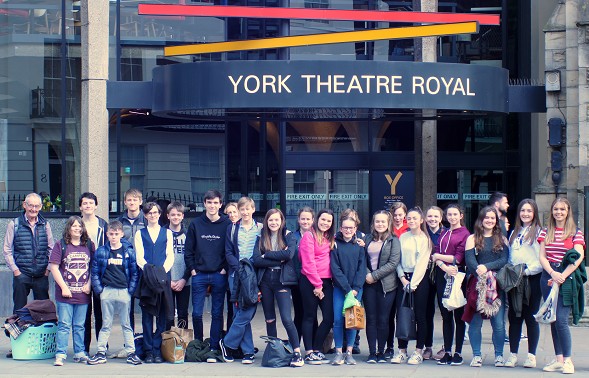 'Chaos' at York Theatre Royal Studio
Ilkley Playhouse and National Theatre Connections 2019
National Theatre Connections is a scheme whereby the National Theatre commissions ten new plays by established playwrights each year. The plays are written about teenagers, and for teenage actors. Each participating company is allocated one of these to direct and present at their own venue, followed by a guest performance at a major local theatre, in our case York Theatre Royal.
The timing of the event precludes participation by students in Year 11 and Year 13, because of their mock exams, so we advertised to supplement our remaining Greenroom members, and ended up with a team composed half of them and half of teenagers new to the society, 22 in all.
The production was "Chaos" by Laura Lomas and was directed by Greenroom Tutors Andrew Leggott and Lisa Debney. It was presented at Ilkley in the Wildman Studio for three nights in February/March, and at York Theatre Royal Studio Theatre on May 12th.
Out of over 250 productions nationwide, just ten (one representative of each of the plays) are then selected to perform at the National Theatre, on the South Bank, in June. Unfortunately we did not make the cut, the honours going to Glasgow Acting Academy. This however in no way diminishes the rewards reaped from our participation, and the memory of our superb presentation in York in particular. Two of the participants have described their experience, as follows: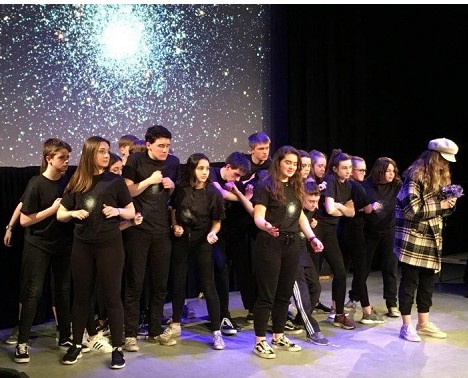 Chaos at Ilkley, by Ellie Colman (Cast member)
I remember that feeling: hearing the crescendo in the music, sensing the growing anticipation of everyone's energy, lights exposing silhouettes of audience, and finally mouthing 'good-luck!' to each other whilst twisting the yellow flowers round and round in our hands. This was the moment the previously busy two months had lead up to. Adrenaline. Excitement. Show time.
Chaos gave us a new challenge, something to keep us questioning and therefore keep the energy fresh within the play. The only way I can describe Chaos really is through the name itself! The play offers snippets of different scenes in a jumbled up, non-chronological order, giving insight to different peoples' lives and situations. As the play progresses, you can see how the pieces of different scenes start to fit together, like a jigsaw. I think we all definitely had fun exploring the meaning behind Chaos as there were so many ideas and explorations connected to it which is what made it so special. When my family or friends would ask me what the play was about, I would have to say, 'Umm, I'm not really sure. Something about the randomness of life!'
In rehearsal, hard challenges were very definitely mixed up with the fun moments. When initially looking through the script one scene literally said 'Dance: A dance routine. It's really boring. Someone makes a mistake.' So we didn't always have a lot to go on and with the dance especially, that was a test that meant a lot of devotion and effort to keep it fresh each time we did it and trust me- there were more than a few stompers (me included) after the third time of running it on a rehearsal night! But once we got it right, it became satisfying and something I remember seeing the audience smile at in the February performance, and definitely an aspect people positively commented on the most.
Taking the final bow and smiling at family and friends, was a night of true spirits. Following the performance the National Theatre Connections Observer spoke to us about the play in a really positive manner, allowing us to all certainly breathe a sigh of relief of what seemed in unison at the time! I remember him saying so clearly how much he enjoyed it and how unique it was. I loved Chaos for that - treating it as a present you had to gradually unwrap throughout rehearsals. It was most surely an experience I am so happy I was a part of and will most certainly never forget. I wish all my fellow companions and friends the best of luck in the future, and hope that they look back on this play, sharing the same fondness I have for it, and all the laughs and memories that came with it.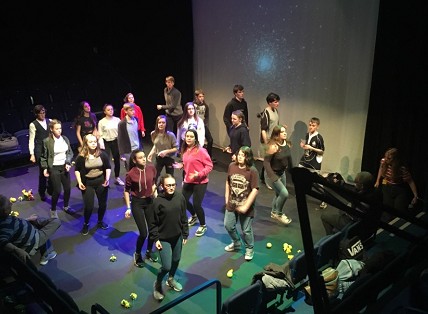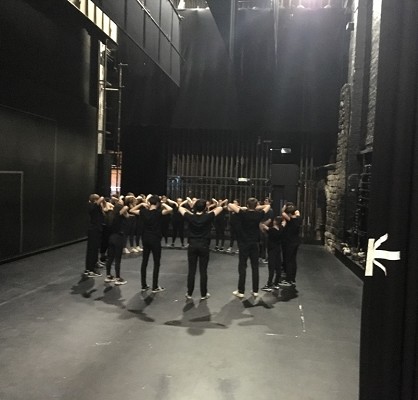 Chaos in York Theatre Royal Studio Theatre, by Jessica Button (Cast member)
First we got on the coach to York in the morning, it was a very enjoyable coach trip as we all had a mixture of nerves and excitement. When we arrived we got settled into the York Theatre Royal, and had a bit of spare time to chat while we waited until our time slot to have a workshop run by a member of the theatre. In the workshop we did many improvisation exercises which were really fun. For example we had 2 people standing in the middle of the classic drama circle which I'm sure all actors/directors are very familiar with!
We then had to have a full conversation going through all letters of the alphabet in a certain place (e.g. a hospital). This was bumped up a level where we had to speak, in all letters of the alphabet, in a certain place AND this time we could only speak with questions, the exercise helped us to think on the spot which an actor definitely needs in their careers like in an audition (if they're asked to do their performance in another way) or during a performance if a member of cast forgets their line, actors must be prepared to quickly think and get the show back rolling on the ball.
After our workshop we watched a performance from another theatre group part of the NT Connections Festival at York Theatre, this was a very interesting dance piece called "terra/earth", we all really enjoyed this piece from such a talented cast. After watching this performance we went to York park to eat lunch/dinner given it was a nice day and we were spending our whole day in a theatre. We then went back to the theatre and had our technical run which was very long as we were in a new theatre, at this point we were all feeling the nerves but regardless still managed to get through our technical successfully! We then spent about 45 minutes in the dressing rooms, trying not to get too nervous and getting ready for our performance. It was then time!
We headed onto the main stage first for a quick warm-up run by Tom Mansfield and wished everybody good luck, we then went to the backstage area of the studio and gathered our props. The play overall ran very smoothly and every single cast member without a doubt did absolutely incredibly and the whole experience has been amazing, I would love to get this kind of opportunity again so if you know anybody who runs a local drama group or is in one or you run one yourself, get yourselves signed up for NT Connections 2020 because I can promise you will not regret it. Thankyou to the cast, crew, directors and everybody who helped or was involved who made this all happen and be the best experience, you're all wonderful.
Share This Page